The Visually Impaired Society of Richmond (VISOR)
Promoting independence & activities among visually impaired people in and around Richmond.
Welcome to our website, which is under new development in 2012.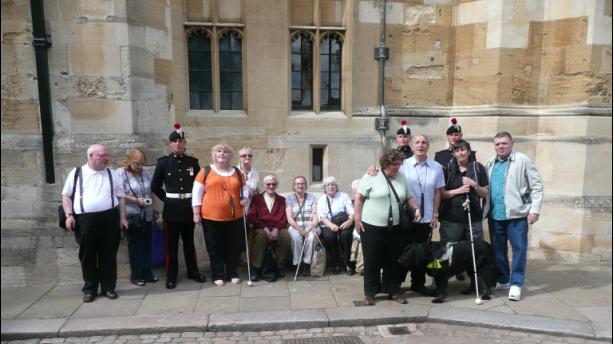 ---
CURRENT ACTIVITIES:
SOCIAL NIGHTS
We currently hold a social evening on the first Tuesday of every month at The Cabbage Patch, 67 London Road, Twickenham. The fun starts from 6.30pm, all welcome!
Whether you are a member or a guest, we look forward to meeting you! There is normally a VISOR prize quiz, and occasional surprise entertainment !
OUTINGS
We have regular monthly outings to a variety of destinations. Recent places we've been to include Longleat, Highgrove, Denbies Vineyard and several west end theatres.
Please contact us either via email at visor.daac@yahoo.co.uk or via the details below.
WATCH THIS SPACE FOR DETAILS OF OUR FURTHER ACTIVITIES!
Here is a photo from one of our recent Christmas Meals.
SPORTS
We regularly take part in Bowling (both Lawn and Tenpin), Swimming and Hydrotherapy. Our Chair Jackie Venus who is V.I. is a member of the England Blind Sailing Team.
HOLIDAYS
Over the past few years we have been away on group holidays to the Action for the Blind hotel at Teignmouth in Devon. If you are interested in these holidays or any of our leisure activities please don't hesitate to contact us.
NEWSLETTER
We also produce regular newsletters which include photographs, details of VISOR activities and contributions from our members.
MEMBERSHIP
Membership of VISOR is open to residents of Richmond and the surrounding areas - many of our members travel some way to join in with us. The current subscription, due in May, is just £10 per annum.
---
CONTACT DETAILS:

Visually Impaired Society of Richmond
Sheen Lane Centre
74 Sheen Lane
Sheen, London
SW14 8LP


Telephone Mondays (Sheen Lane Center, Sheen): 020 8487 5082 or 020 8487 5301
Office hours: 10am to 4pm
Email: visor.daac@yahoo.co.uk


VISOR is a UK registered charity No. 1090135